Circular Meat Ark
Product origin China
The product can be used for refrigerated and fresh-keeping soybean products, fresh meat products, etc., and is suitable for large-scale integrated markets such as commercial center, fresh supermarkets, shopping malls, cafeterias, and restaurants with relatively large passenger flow.
Circular Meat Ark
The product can be used for cold storage of meat products and bean products.
---
Characteristic
Brand-name compressor, integrated refrigeration method, achieves low noise, high energy efficiency, environmental protection and energy saving, safety and stability.

Cabinet body with multiple heat dissipation holes, large area heat dissipation, prolong service life.

The stainless-steel material is corrosion-resistant, easy to clean and does not pollute food.

It adopts equal arc push and pull, tempered coating heat reflection, transparent anti-condensation glass door, heat insulation, good display effect.

Pure copper tube refrigeration, refrigeration speed, long service life.

Bottom universal wheel for easy movement.

A variety of styles are available.

Product appearance can be customized.
---
Product parameters
Refrigerant: R134a

Refrigeration mode: direct cooling

Refrigerating temperature: 2~8℃

Rated voltage: 220/50VHz

Colour: gray
---
Product numerical reference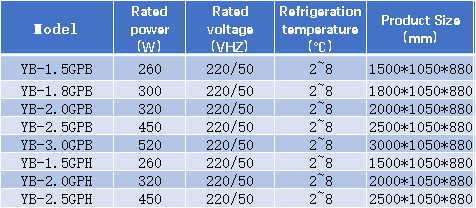 Please consult customer service for customized models!